Meet Miss Laura!
I am Miss Laura and I am the Owner and Artistic Director at GRAD.  My favourite style of dance to teach is Tap, but I also teach Jazz, Ballet, and Lyrical.  I can teach Hip Hop, but since it wasn't really a thing you could take when I was a kid, I leave that to my staff.
In addition to teaching at GRAD, I run the studio…I oversee everything that happens at the studio, from managing Customer Service and Accounting to making sure the lightbulbs are changed and the toilets are cleaned.  I make it a priority to know all the students and their families and make sure the teachers have all they need to make the studio a fun learning environment for everyone that comes in the door.
I created a vision for GRAD that I follow in everything I do.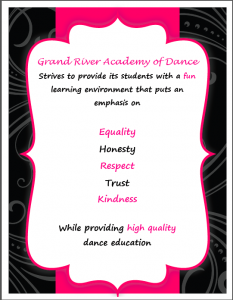 I am excited to get the year started and show all our students, both returning and new what a great studio we have and why I'm so proud to be the Owner of GRAD!